EXPERIENCING JAPAN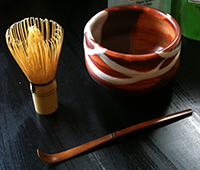 TEA CEREMONY
SOTEI is a master of Urasenke, one of the three main schools of the Japanese tea ceremony. She teaches tea ceremony history, methods, and philosophy. It is real tea tasting, and Japanese confectionery (Okashi) cooking is also taught.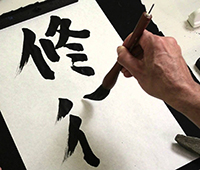 CALLIGRAPHY
MAYUMI teaches traditional Japanese calligraphy. Enjoy rendering kana and kanji in brush strokes with Sumi ink. MAYUMI can visit your company or home to teach calligraphy. For details contact Sachiko at sachiko@sachikofurui.com.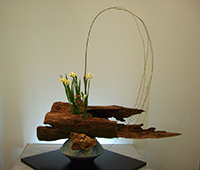 FLOWER ARRANGEMENT
Yukiko teaches us her artistic techniques. Enjoy your own beautiful collaboration with nature. Please bring your own vase.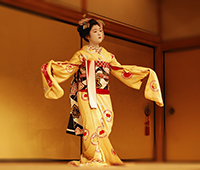 JAPANESE DANCE
HANAYAGI SUKEKATSUMI is a master of traditional Japanese dance. She started Kabuki dance at age two and became a Natori at age 15. Be ready to learn this special, graceful dance from medieval Japan. Learn more about Hanayagi Sukekatsumi at spirit-of.asia.
Photo credit: Lauren Poussard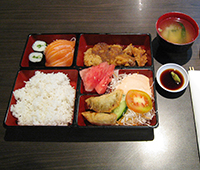 JAPANESE COOKING
CHIE is a licensed nutritionist, and was a Japanese Cook Book editor for five years. Since coming to the United States, she has taught WASHOKU Japanese Cooking.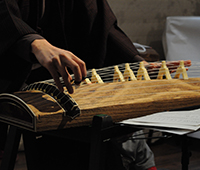 KOTO MUSIC
Koto is a traditional Japanese musical instrument, with a rectangular sound box and 13 strings. CATHLEEN AYAKANO READ is a master of the Yamada School, and was the first non-Japanese to join the musical guild of Nakanoshima Kinichi in Japan. We will learn basic and simple Koto music at her house. Try a unique experience.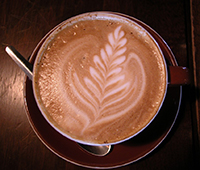 Lecture in Japanese
We held an OGAWA COFFEE class. It was a one-day, five-hour class to learn how to make delicious coffee, Japanese style.